Book on SC politics, policy is candid, illuminating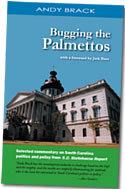 A book of commentaries by South Carolina syndicated columnist Andy Brack is a candid and sometime rollicking look at politics, politicians and policy in the Palmetto State.
Now available, from United Writers Press, Bugging the Palmettos is a collection of Brack's Statehouse Report newspaper columns, which are syndicated weekly in eight newspapers across the state.
The 200-page book, which will be available in bookstores across the state for $14.95, includes commentary on the pragmatic process of democracy and good ideas that can improve government to refreshing observations about the state's leaders.

EXCERPTS
On the "thin-skinned" governor
"[Gov. Mark] Sanford's actions over the last three years show a continuing disrespect for the foundations of state government. At best, it's disturbing. At the least, it's frightening in the state's top leader."
-- From the Introduction
From Chapter 2: Follow the money
"We're operating in the 21st century with a system of taxation that stretches back for generations. The last big update was almost 50 years ago. … Lawmakers need to wake up to budget realities and resist the urge to try to give people something for nothing."
-- June 19, 2005
From Chapter 8: Protect special places
"Unless people get riled up enough to raise Cain in Columbia or vote against lawmakers who make environmental assaults, the degradation will continue. And the South Carolina of tomorrow might not remain a land of special places."
-- March 21, 2004

WHAT THEY SAY
Former College of Charleston President Alex Sanders:
"Andy Brack has the unmitigated audacity to challenge head-on the high and the mighty, and the results are mightily illuminating for anybody who is the least bit interested in South Carolina's politics or policy."
Author Jack Bass, from the Foreword:
"[Brack's] informed and candid observations and commentaries on state politics and public policy reflect a progressive spirit that raises the level of debate about public life and civic responsibility. Bugging the Palmettos provides a look into what is happening in South Carolina government and politics - - and what it could be."
Riley Institute Director Don Gordon, Furman Univesity:
"No matter your political position or ideological take on issues in South Carolina, you need to read this book. Andy Brack writes clearly and thoughtfully about important problems confronting our state and he does so with intelligence, common sense , and, at appropriate times, with a sense of humor."